Coach's Welcome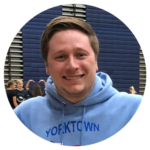 As head coach, I couldn't be more proud of how the Yorktown Wrestling Program performed last year. We had one of our most successful seasons to date, with a repeat team county title, 6 district placewinners, 4 district champions, 4 region placewinners, 4 state qualifiers and 2 state placers. Our coaches have remained focused to continue the upward trajectory of our program and continue to focus on the seven essentials of wrestling as described by Dan Gable: Mat wrestling; Neutral wrestling; Strength; Conditioning; Flexibility; Nutrition and Attitude. This offseason in particular the Yorktown Wrestling Team, under the leadership of our captains, has really embraced the concept that offseason wrestling makes winter champions. We are very excited to see all the hard work the team has put in pay off this coming year!


DONATE
Let's go above and
beyond for the team.
WISH LIST
Check out our
Amazon Wish List.
Our goal is to give each wrestler the tools necessary to reach his or her highest level of success on and off the mat.
MEET OUR COACHES
BUILDING CHAMPION WRESTLERS
Wrestling is a sport that prepares student athletes for lifelong success by building character through hard work. Our team values discipline, success, academics and sportsmanship. 
LEARN MORE
When I joined the team as a freshman, the constant losses and intense workouts made me think the sport wasn't for me. The coaching staff refused to let me give up on myself, and pushed me beyond my self-imposed limits. They turned me from a novice wrestler to one of the best in the state in a very short period of time.